3D Printer will be here soon!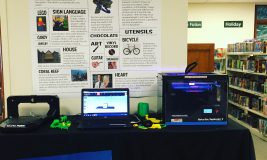 Visit us between January 16 through February 14 to see 3D printing in action!  A Makerbot Replicator 2 will be on site, thanks to the Suffolk Cooperative Library System.  They are loaning their 3D printer to us so that residents in our community may learn more about this fascinating technology.  The printer will be located in the Children's Department, but all are welcome to view it – a technology for all ages, adults and kids alike!
And we're thrilled that 5th graders from all of the district elementary schools will be taking a field trip to the library to learn more about it!
3D printing is a revolutionary new way to create objects.  It provides a fast and easy way for anyone to create a three-dimensional model of virtually any shape from scratch.   What are the practical applications for 3D printing?  Let's say you need a part for your washing machine.  In the past you would order it from your repairman who gets it from a distributor who got it shipped from a factory where they mass-produced thousands of them at once, probably injection-molded from a very expensive mold. In the future, the beginning of which is already here, you will simply 3D print the part right in your home from a CAD file you downloaded.
3D printing is already being used in the medical field to print prosthetic limbs, as well as to create models which help surgeons explain conditions to their patients or help them figure out how to perform an operation.
Click here for Cool Things That Can Be Made With A 3D Printer
Click here for more information on the 3D Printer.
Questions? Call the Children's Department at 631.941.4080 ext. 123 or email kids@emmaclark.org.