March is National Reading Month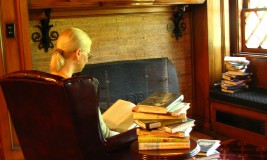 March is National Reading Month!  And we can help you celebrate!
– Take a look at some wonderful book lists and recommended reading on our 
Pinterest page
– Peruse our
newspaper databases
for titles such as the
New York Times
,
Wall Street Journal
, and
Newsday
. Over 1,700 regional, national, & international newspapers, both current and historic.

For Kids Too!
Do you have a new or emergent reader at home?  Here at Emma Clark Library we have a variety of useful and fun resources for your child that can help improve their literacy skills:
At Home
– Search for books on your child's reading level.  Use a SUBJECT search and type "Leveled reading, level___" (fill in the blank with your child's reading level).  Then just request that book for pick-up at the library!
– Visit our website for free access to eBooks!  Tumble Books for Kids and Sesame Street eBooks are animated, talking picture book libraries that help kids learn to read and build vocabulary in an interactive format.
In the Library
– Browse our special section with books by reading level and color-coded so that you can easily find a book for your child to read.
– Play award-winning ABC Mouse for free in the library!  Interactive books, educational games, puzzles, and more for ages 2 – 6+.  You can even log in and track your child's progress.
– Bring your child in to read to a trained therapy dog.  These dogs have been trained to sit quietly and listen.  The dogs are available every Wednesday from 4:30 – 5:30pm.  Call 941.4080 ext. 123 and pick a specific date and time.  All reading levels welcome!
Also, join our Winter Reading Club to encourage reading!