Winter Reading Club – come on down to register now!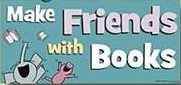 Read "Mo" Books! Join our Winter Reading Club! Registration is on-going throughout the month, so don't worry if you're "late" to register. When you register, you will get a Mo Willems inspired book log, book bag, and bookmark!
Read any books you want and hand in your book log by March 25.
Pre-Readers: Your goal is at least 10 books with your grown-up.
New Readers:  Your goal is at least 5 books.
Confident Readers:  Your goal is at least 2 books on your reading level.
When you reach your goal, come into the library and receive your ticket for The Grins & Grins Comedy Show, a fast-paced variety show, on Saturday, March 25 at 11:00 a.m. in the Vincent R. O'Leary Community Room on the lower level.  You need to be entered in the Winter Reading Club to enjoy the show.
Even if you can't make the show, join the club anyway!  When kids report the books that they've read, it gives them confidence and encourages a lifelong love of reading.
We have a raffle contest too! Mo Willems' books, stuffed animals, mugs, and Dunkin Donuts gift cards. Children may enter for a chance to win weekly,  but must be registered for Winter Reading!
Questions? Email kids@emmaclark.org or call 631.941.4080 ext. 123.