Honoring Our Veterans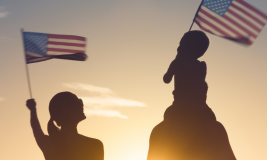 Veterans Board
Each year in November, we display the Veterans Board in our Library lobby to highlight local veterans.  Bring in a photo of your favorite veteran to the Circulation Desk or Adult Reference Desk and fill out a quick form about the veteran.  We'll display the picture on the Veterans Board.   The veteran highlighted may be yourself, a friend, or a family member who served in uniform.  The Veterans Board will be exhibited for the month of November, and the original photos will be available for pick-up at the Circulation Desk after December 1.
Click here to view the Veterans Video on the Library's Facebook Page.
Please note that the Library will be closed on Saturday, November 11 in observance of Veterans Day.
---
VetNow – Ongoing
VetNow is a free, online resource for veterans. It supports veterans & their families through:
Assistance with VA benefits (by veterans themselves)
Job transition resources
Academic tutoring
Q&A
And more!
Questions? Email askus@emmaclark.org
---
For Kids & Their Families
Families can work together in our Children's Library to make cards for the veterans they love. Friday, November 10 from 10:00 – 10:45 a.m. (Kids are off school for Veteran's Day Observed).  Click here to register starting 10/27.
Questions? Email kids@emmaclark.org
---
For Kids (Grades 4 – 6) – Ongoing
Kids may join in honoring our country's veterans and current troops.  The Children's Department offers an ongoing volunteer opportunity for those in Grades 4 – 6 to write letters and earn community service credit.  Click here for more information.
Questions? Email kids@emmaclark.org