Local Museum Added to Museum Passes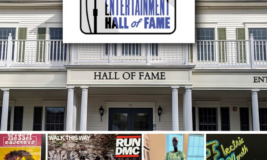 The Long Island Music and Entertainment Hall of Fame, located right in Stony Brook Village at the Ward Melville Heritage Organization, is now a part of our popular Museum Pass Collection.
The Museum opened its doors at 96 Main Street in Stony Brook in November 2022 and boasts, "displays of original musical instruments, famous awards, apparel, and other memorabilia from many of Long Island's favorite artists." Thanks to the Library, residents may now visit this local gem for free with a Museum Pass (the museum lists regular admission prices on their website as adults at $19.50, seniors/veterans at $17, and students at $15). The Library's pass allows free admission for 2 adults and 3 children up to age 18. In addition, this Museum Pass is "Print on Demand", meaning Emma Clark Library cardholders may print the pass from home or any computer (no need to pick up and return a physical pass to the Library).
In 2022, there were 1,872 free museum visits, thanks to Emma Clark Library's Museum Pass collection.
To reserve a pass, Library cardholders may visit emmaclark.org/museum-passes.
---
The Museum Pass program at Emma Clark Library features over 30 museums, gardens, historic sites, family-friendly attractions, and cultural institutions on Long Island and in New York City.
Please note: Our Museum Pass collection is available to Three Village residents only.
---
Those who borrow passes through Emma Clark's Museum Pass program are encouraged to share their adventures on social media with the hashtag #EmmaTakesMePlaces. Emma Clark Library may be found on Facebook @emmaclarklibrary, Instagram @emmaclarklibrary, or Twitter @ESCML.
---
Questions? Email askus@emmaclark.org