Health & Exercise Classes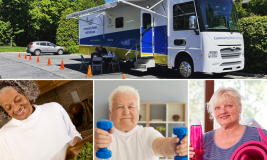 Health & Wellness at Emma Clark Library!
We have both in-person and online options to help you focus on your best self.
Chair Yoga (Hybrid – Zoom OR In-Person)
Tuesdays, September 5, 12, & 19 (2:30 – 3:30 p.m.)
---
10 Warning Signs of Alzheimer's Disease (In-Person)
---
Medicare Basics (In-Person)
---
Health Insurance Assistance (In-Person)
Wednesday, September 27 (2:00 – 6:00 p.m.) Stop by. No registration required.
---
Simply Strong for Life (Hybrid – Zoom OR In-Person)
Tuesdays, October 10, 17, & 24 (2:30 – 3:30 p.m.)
---
Dance Therapeutics (Hybrid – Zoom OR In-Person)
Thursdays, October 12, 19, & 26 (11:00 a.m. – 12:00 noon)
---
Controlling Blood Pressure for Better Health (In-Person)
---
Catholic Health Mobile Outreach Bus – Free health screenings and flu vaccinations (In-Person)
Thursday, October 19 (Stop by between 10:00 a.m. – 2:00 p.m. Last screening begins at 1:45 p.m.). No appointments are necessary, there are no fees, and insurance is not required.
---
Truths and Myths: Genetics and How It Impacts Our Health (In-Person)
---
Dementia Conversations (In-Person)
---
We also ALWAYS offer…
Monthly One-On-One Medicare Counseling – Phone Appointment
Wednesdays, August 16, September 20, or October 18 from 10:00 a.m. – 12:30 p.m. (first appointment at 10:00 a.m. and last appointment at 12:30 p.m.)
HIICAP Health Insurance Information Counseling & Assistance Program – A volunteer from the Retired & Senior Volunteer Program will meet with seniors by phone for help with Medicare health insurance information and forms.
Those interested in setting up an appointment with a HIICAP volunteer should contact Nanette Feder at Emma Clark Library at Nanette@emmaclark.org or call 631.941.4080 x. 116. Nanette will schedule an appointment for you.
---
Blood Pressure Monitor Kits
Would you like to monitor your blood pressure at home? We offer patrons the opportunity to borrow a blood pressure monitor for a period of 28 days. Along with the monitor, we will provide patrons with information on how to have a healthy blood pressure level, how to find heart healthy recipes and how to find follow up information on blood pressure self-monitoring.
The cuffs come in three sizes:
– Large
– Standard
– Small
Plus, one talking monitor!
Note: you cannot place a hold for these items. They must be picked up from and returned to the Emma Clark Library Circulation Desk.  More info and check availability here.
Thank you to our partners at Stony Brook Medicine and the American Heart Association for their assistance with this program.
---
For questions on any of these resources or services, email askus@emmaclark.org
---
Questions? Email askus@emmaclark.org